|
Created: March 24, 2019
|
Last Updated: July 16, 2020
Marketing Strategy
International Business
Market Research
Sports Marketing
When I entered the MSA program at Northwestern University I knew two things: I want to work in sports marketing and I want to incorporate my international business and French degrees into a sports marketing career. What I didn't know is exactly how to do it. Fortunately, my first course in the program was Sponsorship with the one and only Lesa Ukman, co-founder of IEG (now ESP Properties). This course was the first step in me developing my dream career. I learned in depth about how sponsorship affects properties, but more importantly for me, brands that use sponsorship in their marketing plans.
After developing a robust understanding of sponsorship objectives, how successful sponsorships are executed, and how to do sponsorship evaluations, my dream career started making much more sense. I started to see the picture of brands developing marketing strategies using sponsorship to connect with their desired target audience on a level that transcends pushing promotions and sales. I started to see how sponsorship helps brands achieve their objectives, ultimately helping to meet monetary goals whether directly or indirectly.
In conjunction with grasping sponsorship, I became intrigued with what Under Armour was doing to expand internationally. They had made quite the mark on the U.S. market but seemed to be struggling to really hit their international targets. As I progressed through the MSA program, taking Sports Sales, The Olympic Movement, and International Sports courses, I developed the concept of my Master's Thesis, which was to examine Under Armour's performance in expanding their business internationally, determine if they are headed in the right direction, and make recommendations on where Under Armour should be focusing their international expansion efforts. In order to do this, I did comprehensive research into the company and the competitive environment. I also incorporated several business strategy tools such as SWOT analysis, Porter's Five Forces, and Cavusgil's Market Potential Index, which helped to frame where Under Armour stood in the market, against competitors, and against its own goals and objectives. It also helped me create framework to determine what sports and international markets would provide Under Armour with the best opportunity to expand internationally.
Here is an overview of my research:
There are two main objectives of this study. The first is to provide analysis and understanding of the challenges facing the company in its efforts to grow market share outside of the United States. Secondly, the study seeks to determine the most effective internationalization and sports marketing strategies for a successful global expansion of Under Armour.
Background & Current Issues
Under Armour was founded on the idea of innovation for athlete performance. This simple idea altered the sportswear industry, creating new products and putting Under Armour on the map against top competitors Nike and adidas. While Under Armour has surpassed adidas to become the second biggest sportswear brand in the US, there is still a lot of growth that needs to occur for Under Armour to surpass Nike and adidas on a global basis. Nike and adidas both have strongholds on major international sports, such as soccer and basketball, partially due to their ability to pay for top sports sponsorship opportunities. Compared to Nike and adidas, Under Armour has limited resources and has to think outside of the box to compete on a global scale. With its sales outside of North America accounting for less than ten percent of its total sales, Under Armour has not made as big of an international impact as originally hoped.
This study examines the external environment in which Under Armour operates and the company's internal environment to determine the strengths, weaknesses, opportunities, and threats the company faces in expanding internationally. Then, a country selection analysis will be conducted to determine which international markets are best suited for Under Armour's expansion. Finally, a sports strategy evaluation will determine which sports to target in the company's key international markets to create brand awareness and increase international sales.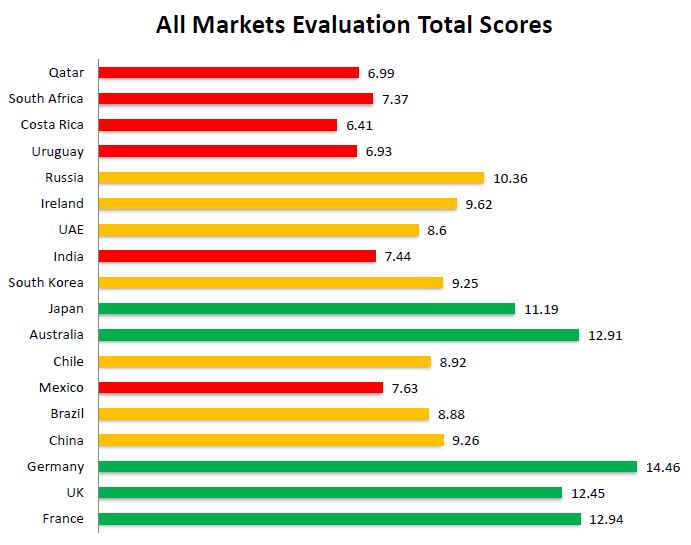 Results & Recommendations
Top 5 Markets For Under Armour's International Expansion
All of the research was then used to conduct a market potential analysis and a sports marketing analysis. The market potential analysis was adapted from Cavusgil's indexing approach in order to determine in which markets Under Armour should focus its expansion efforts. North American markets were not included because Under Armour's revenue mostly comes from North America. The sports marketing analysis determined which sports by market Under Armour should focus its marketing. Soccer was not included in the sports analysis because it is the most popular sport in the world and a given for Under Armour to have in its sports marketing strategy. Also, Under Armour's top competitors, Nike and adidas, are the leaders in soccer, making it difficult for Under Armour to financially compete in the world's sport. Therefore, Under Armour needs to look at sports outside of soccer in order to have a better chance to gain market share internationally. My research found that the top 5 markets Under Armour should focus its expansion on are (1) Germany, (2) France, (3) Australia, (4) the United Kingdom, and (5) Japan.
Germany
France
Australia
United Kingdom
Japan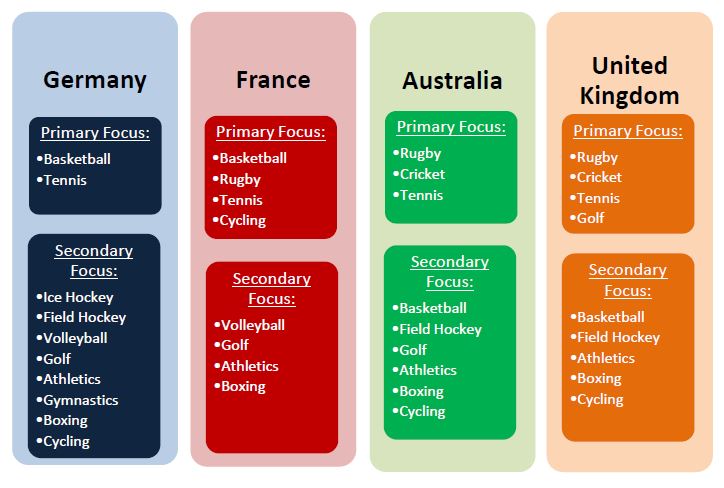 For the sports marketing analysis, I focused on the markets that scored over 12 points in the market potential evaluation. The results showed that each country had primary sports and secondary sports that span all four countries and that relate to Under Armour's current product lines and sports marketing efforts. Tennis is the only sport that was a primary sport in all four countries. Under Armour should begin its expansion efforts by focusing its sports marketing efforts on in each country on the primary sports. For example, in Toulouse, France, rugby is the main sport. Under Armour should attempt to become a sponsor of Stade Toulousain, the Toulouse rugby club.
Based on the findings in my research, Under Armour should focus it's globalization efforts on using the sports that overlap between the top 4 markets – UK, Germany, France, and Australia such as rugby, basketball, and cricket. By gaining sponsorships and athlete endorsements in these sports related to these markets, Under Armour has a strong case for successfully expanding their international division.
Hey There, I'm Mollye!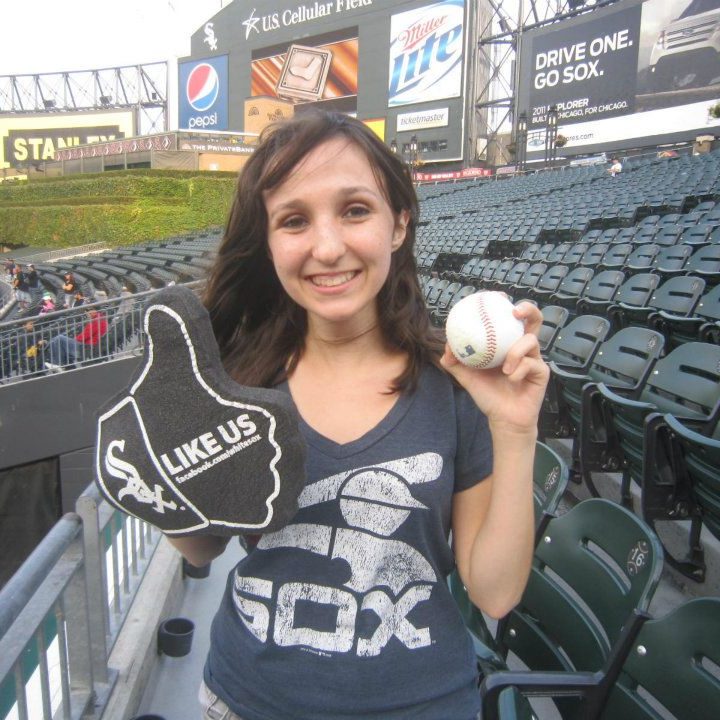 Welcome to my blog where I share experiences in my work and personal life and the tips and tricks that help me stay balanced and get everything done. Enjoy!